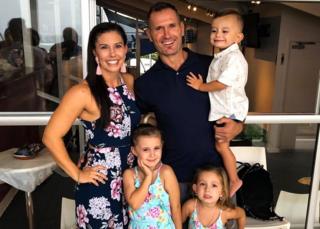 The deaths of three children and their mother in a car fire in the Australian city of Brisbane have sparked outrage, amid reports they were killed by the father, ex-rugby player Rowan Baxter.
Mr Baxter's wife Hannah and their three children were killed by the blaze on Wednesday. He also died at the scene.
Some Australian media say he doused the white SUV in petrol and set it alight before stabbing himself.
But police say it is too early to be sure how the fire started.
"How the fire actually occurred has not been ascertained at the moment so for us to call it a murder-suicide or a tragic accident, it's…