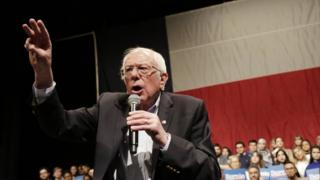 Bernie Sanders looks set to cement his status as the Democratic front-runner to take on Donald Trump in November's presidential election in the US.
Early results show Mr Sanders leading in Nevada's caucuses, and suggest he is on course for a large win.
There is a long way to go, however, until a nominee is confirmed.
Early results also suggest former vice-president Joe Biden has performed better in Nevada than in the other two states which have voted so far.
He has…