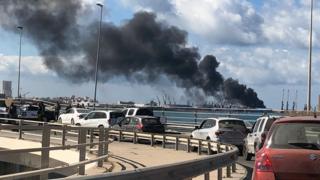 Libya's UN-backed government has withdrawn from peace talks after the capital was hit by rocket fire.
It said the port was one of the targets struck by forces loyal to renegade General Khalifa Haftar, prompting the evacuation of fuel tankers.
The city has been under siege for almost a year, and relies heavily on shipping to feed its population.
Top negotiations to broker a lasting ceasefire between the two sides in the civil war have faltered several…